DOWNTOWN L.A.'S LARGEST FREE FOURTH OF JULY CELEBRATION RETURNS WITH HUNDREDS OF DRONES AND AN HOMAGE TO
HIP-HOP MUSIC'S 50TH ANNIVERSARY
Reinventing Downtown L.A.'s largest free Fourth of July celebration. For the first time in the park's 10-year history, an incredible drone show—not traditional fireworks—will light up the night sky.
L.A.'s ultimate July 4th neighborhood party will be spread across the six city blocks that comprise Gloria Molina Grand Park. Attendees are welcome to bring a picnic or enjoy a variety of delectable food and snack options for purchase from L.A.'s favorite gourmet food trucks, including tacos, barbecue, burgers, vegan, desserts and more. Alcohol is not permitted in the park and will not be sold at the event.
ENTRANCES
Gates to Gloria Molina Grand Park open at 4:00 p.m. Attendees may access the park's grounds through four specially marked entrances:
• Olive and 1st Streets
• Hill and Temple Streets
• Main and 1st Streets
• Hill and 1st Streets
The nearly six-hour festivity geared for the whole family—and their four-legged friends—includes music performances on two stages showcasing L.A.'s global and diverse sounds.
LINE UP
THE BACKYARD STAGE
Block 4 – Gloria Molina Grand Park's Event Lawn next to City Hall, between Broadway and Spring Street
4:00 – 4:10 p.m.: Maya Jupiter (Host)
4:10 – 4:25 p.m.: DJ Ethos
4:25 – 5:10 p.m.: The Harmony Project
5:30 – 5:50 p.m.: The GR818ers
6:10 – 7:00 p.m.: Maya Jupiter presents ARTIVISTA featuring Medusa, Georgia Anne Muldrow and Jessa Calderon
7:15 – 8:00 p.m.: Bahamadia
8:15 – 9:00 p.m.: Cut Chemist + Chali 2na
9:00 – 9:12 p.m.: Spectacular drone light show with live Hip-Hop playlist curated by DJ J Rocc of The Beat Junkies
9:12 – 9:30 p.m.: DJ Ethos
 THE FRONT YARD STAGE
Block 2 – Gloria Molina Grand Park's Performance Lawn between Grand Avenue and Hill Street
4:00 – 9:30 p.m.: The Beat Junkies presents a celebration of the past, present and future of L.A.'s DJ culture featuring the Beat Junkie Institute of Sound, The Ladies of Sound and special guests.
CONTINUE THE FUN!
As an added attraction to Gloria Molina Grand Park's 4th of July Block Party celebration, the park will showcase a digital playground for children and families to explore digital and Augmented Reality (AR) experiences, arts, crafts and games. The digital playground will feature EYEJACK, an art and technology company that loves to bring people together in playful ways by exploring interactive digital arts experiences for all ages. EYEJACK is presented in collaboration with The Music Center's Digital Innovation Initiative.
The dynamic 3-D drone show will be accompanied by a live playlist curated by The Beat Junkies' founder DJ J Rocc and will showcase Gloria Molina Grand Park's yearlong theme—"Reflections"—acknowledging Angelenos' inner strength and power as the community moves toward the future. The drone experience is provided by Grizzly Entertainment.
GET TO KNOW THE ARTISTS AND PERFORMERS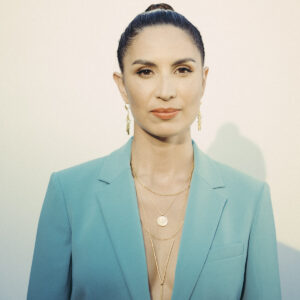 Maya Jupiter | Maya Jupiter brings her dynamic blend of rap, rock, soul, and activism electrifying the crowd. Born from diverse cultural roots, Maya's music is a testament to the power of unity and self-expression. Her passionate performances are infused with infectious energy, compelling the audience to move to the rhythm and embrace the messages of empowerment, identity, and community interwoven within her lyrics.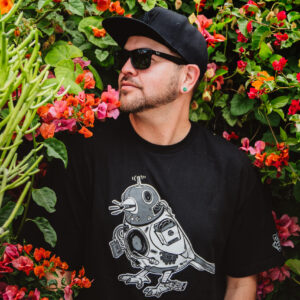 DJ Ethos | Ethos is a performance heavy weight Dj from Los Angeles. With residencies across the country to massive festival stages like Coachella, Electric Forest, Northern Nights, Supersonico, Lightning In Bottle, Boiler Room. A seasoned Turntablist with a global perspective. Trusted on tour by artist like Los Rakas (Panama), Ana Tijoux (Chile), KRS One (US), Bocafloja (Mexico), Eric Bobo of Cypress Hill (US) and many more to back up and support their vision in concert. With eclectic party rocking skills to vibes unlimited shown by his practice as a member of the all inclusive SUBSUELO, a Global Bass party celebrating music from around the world. A must see when he is En Tu Área.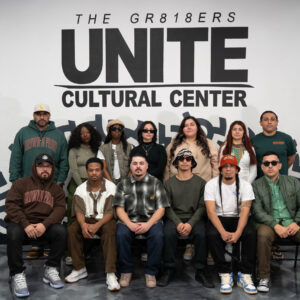 The GR818ers  | The GR818ERS (pronounced 'great-one-eighters') was founded in 2010 by youth as a grassroots collective dedicated to improving racial and social tensions in the San Fernando Valley. As high school students, they organized themselves in an effort to combat the disenfranchisement and stereotypes they fell victim to as residents of Pacoima, a Los Angeles neighborhood challenged with poverty. For the past decade, The GR818ERS have harnessed their raw talent, creative genius and passion for Hip Hop culture to provide positive outlets for youth and families alike to grow, heal and organize with their community. They implement arts and athletics programming, community development projects and cultural events to empower youth and young adults to become leaders in their community. The founding members of The GR818ERS are regarded as neighborhood heroes and are global leaders in Hip Hop education and community activism.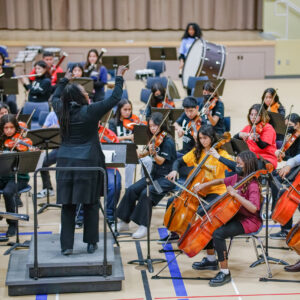 The Harmony Project | Harmony Project is a nonprofit organization founded in 2001 that provides music education to underserved children and youth in Los Angeles. Harmony Project harnesses the transformative power of music to increase access to higher education for its students by removing systemic barriers to achievement through academic and social support. With over 3,500 students between the ages of 5 and 18, participants receive access to professional-grade musical instruments and high-quality instruction from trained musicians, as well as social, emotional, educational, and financial assistance.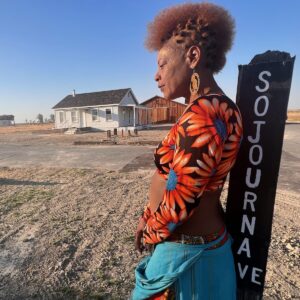 Medusa | Medusa, the energetic Los Angeles MC's commanding presence and impeccable flow ignite the audience, with her intricate and thought-provoking lyrics resonating deeply. Her powerful delivery and fearless demeanor highlight her commitment to social justice, inspiring listeners to rise above adversity and fight for change. The stage becomes a playground for her fiery words, creating an atmosphere that sparks both reflection and revolution.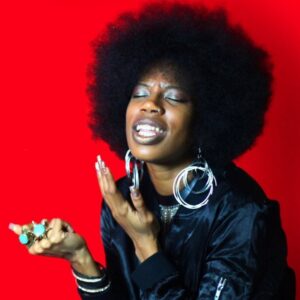 Georgia AnneMuldrow | Georgia Anne Muldrow, a visionary singer, songwriter, and producer known for her soulful melodies and genre-blending compositions takes the audience on a sonic journey, effortlessly weaving elements of jazz, funk, hip-hop, and R&B into her mesmerizing performance. Her powerful stage presence and emotive storytelling create an intimate connection with the crowd, leaving them yearning for more.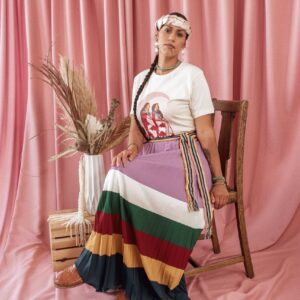 Jessa Calderon | Jessa Calderon, is an extraordinary artist and advocate for land, water, and climate justice.
Jessa brings a wealth of experience and wisdom to the stage. As a songwriter, published author, poet, hip-hop artist, and performer, Jessa's creative prowess knows no bounds. With a soul-stirring blend of lyrical artistry and passionate storytelling, Jessa's music resonates deeply within the hearts of listeners, carrying messages of resilience, healing, and empowerment.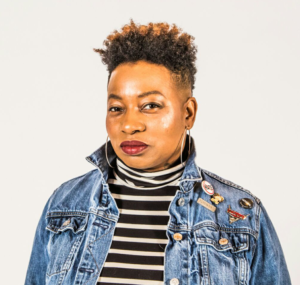 Bahamadia | Bahamadia rose to prominence on the hip-hop scene as the female protégée of Gang Starr's Guru, and lent her smooth-flowing raps to a variety of projects during the late '90s, including several electronica and acid jazz artists. Born Antonia Reed in Philadelphia, Bahamadia started out DJing at local house parties in the early to mid-'80s, and soon stepped out front to prove her skill on the mic as well. She remained a presence on the Philly hip-hop scene, but didn't make her first recordings until hooking up with producer/radio personality DJ Ran, who helmed her independent 1993 single "Funk Vibe." "Funk Vibe" caught the attention of Gang Starr MC Guru, who took an interest in Bahamadia's career and helped her get a record deal with Chrysalis. Her first singles, 1994's "Total Wreck" and 1995's "Uknowhowwedu," were well-received in the underground for their jazzy flavor and laid-back raps.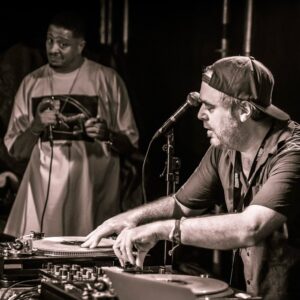 Cut Chemist+Chali 2na |Chali 2na and Cut Chemist have been inseparable for 35 years. It all started in 1987 when they formed their first group UNITY Committee just a couple years after Chali move from Chicago to Los Angeles. In 1994 they combined forces with local rap group Rebels Of Rhythm to form Jurassic 5. Although J5 was in full swing making music and doing shows, Chali and Cut also were founding members of the fusion Latin group Ozomatli in 1995. Cut Chemist went on to do remixes and features for such acts as DJ Shadow, Less Than Jake and Blackalicious. Chali also explored his rap prowess with such acts as Roots Manuva, Lyrics Born, Slightly Stoopid and Galactic just to name a few. Separately they also landed solo deals with Interscope and Warner Brothers.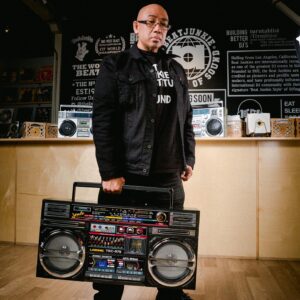 The Beat Junkies | Hailing from Los Angeles, The Beat Junkies are revered as the world's greatest DJ collective. Founded in 1992, The Beat Junkies have successfully cultivated a loyal fan base of music enthusiasts worldwide. With countless musical accolades, including world championship DJ competition titles, primetime radio mixshows for L.A.'s leading radio stations (Power 106, 92.3 The Beat, & 93.5 KDAY), providing music production for some of the industry's most notable recording artists, and touring the globe showcasing their unique DJ & musical artistry, The Beat Junkies have profoundly influenced the international DJ community since the early 90's.
GET TO KNOW THE COMMUNITY PARTNERS
Get to know the remarkable organizations that play a vital role in creating an unforgettable experience!
HIP-HOP ALLEY
Get inspired and enjoy Hip-Hop activations from:
The GR818ERS | The GR818ERS are gracing the stage with their captivating dance moves and producing a collaborative community mural to encourage everyone to leave their mark on the world
No Easy Props, Inc.| NEP will be providing street art inspired projects lead by Los Angeles renowned artist, "King Cre8," whose artwork has adorned the urban landscape for over 30 years.
The Beat Junkies| Hailing from Los Angeles, CA, The Beat Junkies are revered as the world's greatest DJ collective. Founded in 1992, The Beat Junkies have successfully cultivated a loyal fan base of music enthusiasts worldwide. Visit The Beat Junkies booth to learn more about their programs
FAMILY REC ZONE
Bring everyone and learn from:
Coalition of Humane Immigrant Rights Los Angeles (CHIRLA)| CHIRLA is a nonprofit organization whose mission is to achieve a just society, fully inclusive society of immigrants. CHIRLA has since become one of the largest and most effective advocates for immigrant rights, organizing, educating and defending immigrants and refugees in the streets, in the courts, and in the halls of power. Visit CHIRLA's booth to learn about their programs.
Los Angeles County Department of Public Health| Hands Only CPR (HOCPR) Training: Public Health staff from the L.A. County Department of Public Health, Central Health Center, will provide HOCPR training on site for all program participants. HOCPR is quick and easy to learn; the training lasts under 5 minutes. Skilled public health staff will guide attendees through the steps of HOCPR and have them provide return demonstrations on a training mannequin at community outreach tables.
Natural History Museum of Los Angeles County | Dive into science with the Natural History Museum and uncover locally-discovered fossils. Help us do science by sorting real fossils and finding out how our prehistoric ocean helps us understand the underwater habitats from the past. What lies beneath the surface of Los Angeles? A hidden ocean waiting to be explored…by you!

TRANSPORTATION
Public parking will be available at two locations for $10 per vehicle:
The Music Center garage
135 S. Grand Ave.
Los Angeles 90012
Walt Disney Concert Hall garage
111 S. Grand Ave.
Los Angeles 90012
Additional parking lots near Gloria Molina Grand Park will be available.
Given the large number of attendees expected, the public is highly encouraged to
take public transportation. Gloria Molina Grand Park is located conveniently at these locations:
Metro A Line (Blue)

Historic Broadway Station
Grand Av. Arts/Bunker Hill Station

Metro B Line (Red)

Civic Center/Gloria Molina Grand Park Station

Metro D Line (Purple)

Civic Center/Gloria Molina Grand Park Station

Metro E Line (Yellow)

Historic Broadway Station
Grand Av. Arts/Bunker Hill Station
For the latest information, visit grandparkla.org and follow Gloria Molina Grand Park on social media (Facebook: @GrandParkLosAngeles; Twitter, Instagram and TikTok: @GrandPark_LA).