The West Coast's largest FREE New Year's Eve event is back! With the park's signature 3D countdown lightshow projected onto L.A.'s iconic City Hall leads revelers into 2023 and Grammy®-nominated Cuban Funk artist Cimafunk and renowned DJ Marques Wyatt topping off the highly-anticipated New Year's Eve celebration!
Plus, bring the appetite for delicious foods from 30 of LA's Favorite Food trucks (see the list below).
Alcohol is not permitted and will not be sold at Gloria Molina Grand Park.
🌧 The event will happen  rain or shine. We encourage all our guests to watch the weather reports, and, if necessary come prepared for inclement weather, bringing the appropriate rain gear to stay warm and dry while enjoying all of the event's amenities. Please note that umbrellas are prohibited in the park, and we recommend checking the Gloria Molina Grand Park's prohibited items at the bottom of this page.
—
Gloria Molina Grand Park's NYELA 2022 Line Up 🎆
(All artists and set times subject to change.)
GET DOWN STAGE (Gloria Molina Grand Park's Performance Lawn between Grand Avenue and Hill Street) hosted by Banga Brownin
8:00 PM: DJ Gingee
9:00PM: DJ collective Cumbiatón
10:00 PM: DJ MTooray
11:00PM: DJ Marques Wyatt
11:55 – 12:05 AM: Countdown to 2023 with City Hall 3D Lightshow Spectacle!
12:05 – 12:30 AM: DJ Marques Wyatt
COUNTDOWN STAGE (Gloria Molina Grand Park's Event Lawn next to City Hall, between Broadway and Spring Street)
8:00 PM: Host DJ Raul Campos
8:15 PM San Cha
9:00 PM Versa-Style Dance Company
9:30 PM Mark de Clive-Lowe & Friends
10:30 PM: Kati Hernandez & Kimbambula Cuban Dance and Music Ensemble
11:00 PM: Cimafunk
11:55 – 12:05 AM: Countdown to 2023 with City Hall 3D Lightshow Spectacle!
12:05 – 12:30 AM: Raul Campos
As an added attraction to Gloria Molina Grand Park's NYELA celebration, the park will showcase captivating art & photo installations by Light Riders,  XiteLabs, and Cara Romero.
PARTNERS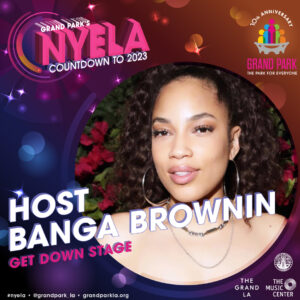 Banga Brownin | An American born singer/songwriter, emcee, radio personality and DJ descending from St. Kitts, Barbados& South Carolina, Kenya Lucas aka Banga Brownin realized her passion for the arts as a young girl growing up in New York City. Born and raised in the highly populated Caribbean community of Jamaica, Queens and influenced by the emerging sounds of hip-hop, (her Dad being a DJ and club owner) Kenya's sound developed into a rare fusion of Reggae, Hip-hop and Soul gaining her the description as the "melodic lyricist".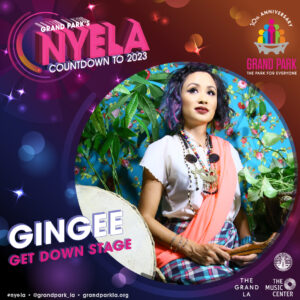 Gingee | Gingee is a Filipino American producer, percussionist and vocalist known for her unique take on global bass Her work reflects the sounds and cultures she has been exposed to growing up in LA as well as the musical world of her Filipino Ancestors and beyond. She founded an art and music festival called Music Garage and has performed at many music festivals around the country and world like Coachella, South by Southwest, and Malasimbo Festival.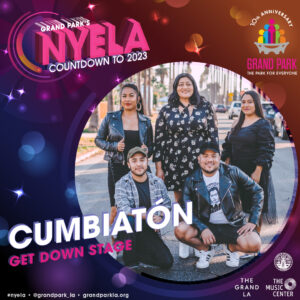 Cumbiatón | Cumbiatón is an intergenerational cultural movement which utilizes music and art as a vessel to heal and uplift oppressed hood communities. Founded by Dj Sizzle Fantastic and Normz la Oaxaqueña, Cumbiatón has rooted itself in the beautiful barrio of Boyle Heights, and has branched out to cities like San Francisco, Seattle, and New York. Cumbiaton's vision in all 4 cities is to center womxn, trans, and queer people of color both on the dance floor and in the Dj booth.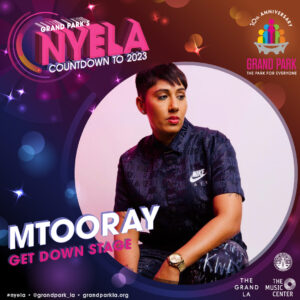 MTooray | MTooray is a dhol player, DJ, and the co-founder of No Nazar. She's known for live drum performances, and uniting Indian music with genres like hip-hop and amapiano. MTooray is a queer composer, recording artist and musician. Born into a Sikh family, and a native of Los Angeles, Malinder is known as the first female dhol player in North America.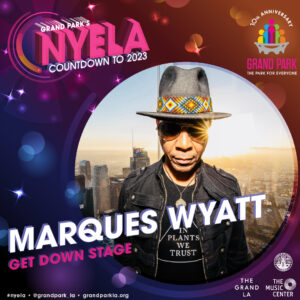 Marques Wyatt |  Marques Wyatt is one of the most respected DJs on the West Coast and has been instrumental in giving LA's dance scene the coveted credibility in the electronic music industry. He's the founder of DEEP, an internationally esteemed sanctuary for house music lovers that prides itself on presenting the finest electronic DJs and artists from around the world.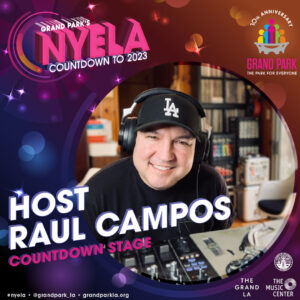 Raul Campos | The voice of pirate radio in the mid-'90s and a native Angeleno, Raul Campos has come from the underground to represent the eclectic airwaves of KCRW. Raul Campos creates a mix of emerging artists and current favorites, bringing essential cuts from around the world and a little closer to home.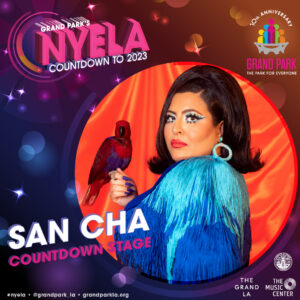 San Cha | Using her Mexican American upbringing, San Cha channels a wave of cultures to beautifully collide in a mix of genres.  By subverting the tropes of popular culture from her Mexican roots to make something new, San Cha has managed to make an impact with her storytelling in the music world, thanks to a highly original sound that encapsulates who she is.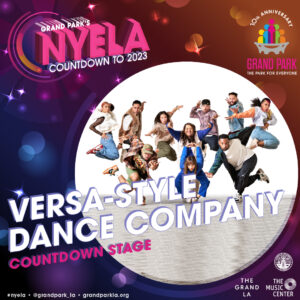 Versa-Style Dance Company |  Founded in 2005 by Los Angeles natives and co-artistic directors Jackie "Miss Funk" Lopez and Leigh "Breeze-Lee" Foaad, Versa-Style Dance Company was created to promote, empower and celebrate the artistry of Hip Hop and street dance culture. Named "Los Angeles' Best Dance Troupe for Hip Hop Empowerment" by LA Weekly, Versa-Style is recognized for its electrifying performances and inspiring engagement activities for schools and local communities. Consisting of committed, highly skilled street dance artists and educator's representative of the diversity and beautiful complexity of Los Angeles, Versa-Style Dance Company harnesses the exhilarating energy of street dance onto the concert stage for an unforgettable evening of dance.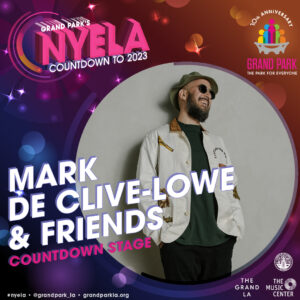 Mark de Clive-Lowe | Musical maverick Mark de Clive-Lowe seems an impossibility at first sight – juggling piano, synths, live sampling and beat making all on-the-fly, brought to life with a casual ease that's mind-boggling. In his formative London years, the Japanese-New Zealander helped evolve broken beat – an off shoot of house and funk music – establishing himself as an undeniable voice in progressive electronic music. Equal parts jazz musician, composer and live production wizard, MdCL's sets are a treat for the listeners, the dancers, the progressives and the purists alike – as he casually erases the lines between genres and eras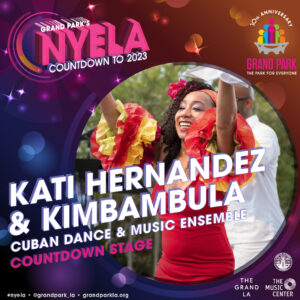 Kati Hernandez & Kimbambula Cuban Dance and Music Ensemble | A native of Cuba, Kati Hernández, grew up surrounded by the sounds of the drum and Afro-Cuban dance traditions that shape her as an electrifying choreographer, educator, and dancer. Her knowledge of dance and choreography reveals her intricate and versatile style, making her a highly sought-after performer, nationally and internationally. In Los Angeles, she is a central figure in a large dance community where she co-founded Kimbambula Production and created her own Kimbambula Cuban dance and Music Ensemble. Kati's work is a true illustration of her heritage and an endless celebration of Cuban Culture.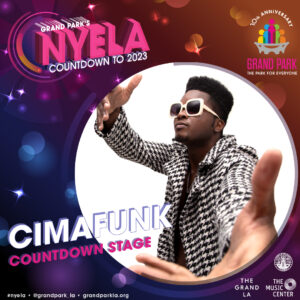 Cimafunk | Cimafunk is an Afro-Cuban Rockstar. His name refers to his heritage as a 'cimarrón,' Cubans of African descent who resisted and escaped slavery, as well as to the essence of his music that aims to subvert conventional sounds with rhythmic innovation. By bringing out the best in Cuban rhythms and traditions and infusing sounds and styles from Africa and the U.S., Cimafunk has created something unique and special, not only in terms of music but also with the values he stands for. He is redefining contemporary Cuban music as well as Afro-Latin identity and the fusion of black cultures.
–
PARKING
Public parking will be available at the main Music Center garage (135 N. Grand Avenue, Los Angeles, CA 90012) and in The Music Center's Walt Disney Concert Hall garage (111 S. Grand Avenue, Los Angeles, CA 90012) at a flat rate of $10 per vehicle. Additional parking lots near Gloria Molina Grand Park will be announced soon. However, given the large number of guests expected at the event, members of the public are highly encouraged to take public transportation. Gloria Molina Grand Park is located conveniently at the Civic Center/Gloria Molina Grand Park station along the Metro B Line (Red) and Metro D Line (Purple).
Attendees may access Gloria Molina Grand Park's grounds through four specially-marked entrances:
Olive and 1st Streets
Hill and Temple Streets
Main and 1st Streets
Broadway and 2nd Street
–
PROHIBITED ITEMS
GETTING THROUGH BAGCHECK:
All bags will be checked upon entry to event space, please do not bring the following items to this event: Bags and Backpacks Measuring Larger Than Standard Backpack Size (16.75 inches x 13 inches x 8.5 inches) / Coolers / Chairs / Outside Alcoholic Beverages / Sealed or Open Beverage Bottles with Liquid Including Water (fountains and water for purchase will be available) / Selfie Sticks /Glass / Smartboards / Projection Devices / Narcotics / Tents / Firecrackers / Explosives / Sparklers / Firearms / Weapons / Frowny Faces / Identity-covering costumes / Confetti Cannons / Generators / Drones / Printed Signage Measuring Larger Than 8.5 inches x 11 inches/ Props / Flag Poles / Sticks/ Aerosol cans / Smoking Paraphernalia /Lighters / Fire Matches / Umbrellas
*prohibited items subject to change
THE FOLLOWING IS ALSO PROHIBITED AT THIS EVENT:
Public Intoxication / Rollerblading / Skateboarding / Smoking / Vaping / Unauthorized Vending / Unleashed Animals / Smart boarding / Outside Solicitation / Staking Objects to Ground / Drone Operation / Amplified Noise / Bicycles (may be parked outside of event at 1stSt/Hill St)
ITEM(S) YOU CAN BRING:
Snacks / Food / Sealed juice boxes / Small bags / Smiling Faces / Strollers / Empty reusable non-glass water containers
For more information about Gloria Molina Grand Park, visit grandparkla.org and follow Gloria Molina Grand Park on Facebook (@GrandParkLosAngeles), as well as Twitter, Instagram and TikTok (@GrandPark_LA).

Gloria Molina Grand Park's NYELA is generously supported by The Grand LA. Located at the cultural epicenter of Los Angeles, The Grand LA is a 24-7 destination for hospitality, entertainment, dining and experience, as well as a paradigm-shifting place to live.