Grand Park's Lovers Rock sets the evening for love's big day with a beautiful and romantic urban oasis to celebrate with friends, families, partners and pups.
The four-hour event, held in person for the first time since the pandemic, features:
-Live music with DJ Puffs and curated playlist by instrumentalist Low Leaf
-A photobooth hosted by Las Fotos Project
-A pop-up art gallery presented by LA Plaza de Cultura y Artes
-Screenprinted designs with Cultivarte Studios
-A flower market with Poppy Lavender Florals
-Paint your own (PYO) cookie kits for our cookie station provided by East Los Sweets
Visitors are welcome to bring a picnic, or purchase delectable bites from The Food Clinic and Inglorious Funnels, to dine and groove under the stars while celebrating love, kindness and community!
PARTNERS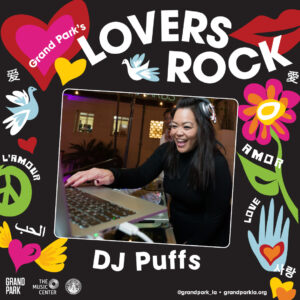 DJ Puffs | DJ Puffs is a multi-genre, love-centric DJ who adeptly creates community through music. For over 15 years, Puffs has moved dancefloors and curated the musical vibe for events throughout the Los Angeles area. Most recently, Puffs served as the Music Director and DJ for Karen Bass' historic, people-powered journey towards becoming the first woman Mayor of Los Angeles. A Monterey Park-native, Puffs is a public school district administrator by day, and product of an upbringing with deep roots in social justice and all things Motown. DJ Puffs believes that music is a conduit that keeps us powerfully connected in times of healing, struggle, hope and joy–and consistently delivers an unforgettable, heartfelt and relatable soundtrack that reflects and celebrates our collective human experience.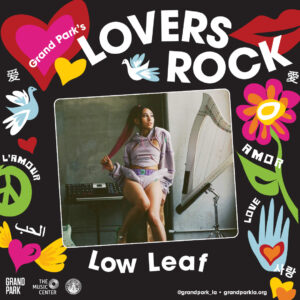 Low Leaf | Low Leaf is a powerhouse; a multi-instrumentalist, vocalist, composer and producer that combines an array of genres, ever-expanding in a spectrum of its own. Exploring sound healing and plant consciousness as a part of her spiritual practice has greatly influenced her approach to music, painting, and more recently filmmaking. In a world of illusion, she insists on using her creative gifts as an instrument of truth, love, and liberation. To that end she has toured her extraordinary performances across 4 continents and self-released 8 exceptional records. Her latest releases utilize Web3 technology, a frontier that holds space for her evolving independent spirit.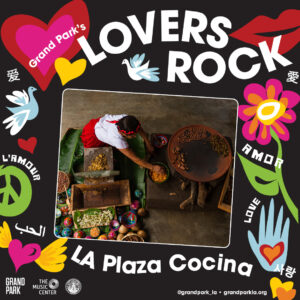 LA Plaza Cocina | LA Plaza Cocina is the first museum in the United States to explore the history and culture of Mexican food. Devoted to telling the Mesoamerican story of the cuisine's origin, LA Cocina's exhibitions and upcoming cooking classes will trace how a world-renowned cuisine has evolved into a contemporary culinary phenomenon.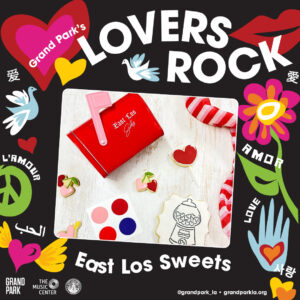 East Los Sweets
| Being Raised in la dulzura of a panadería East Los Sweets is a one gal operation with a variety of sweet creations that show case her culture and upbringing in every bite.
"East Los Sweets is based out of my family bakery, La Central Bakery. Which has been in my family since 1984. Growing up, I never saw myself working in the kitchen, little did i know it would become my home." – Laura Martinez, Owner of East Los Sweets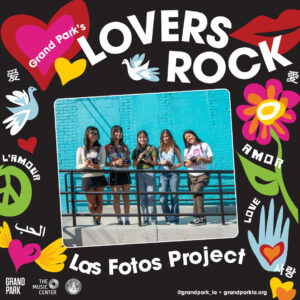 Las Fotos Project
| Las Fotos Project's mission is to elevate the voices of teenage girls and gender-expansive youth from communities of color through photography and mentoring, empowering them to channel their creativity for the benefit of themselves, their community, and future careers.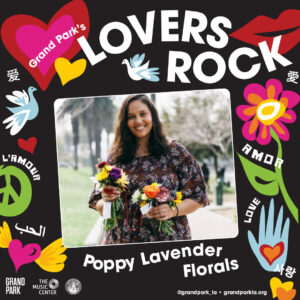 Poppy Lavender Florals
| Hello from Poppy Lavender Florals! I am the owner, Poppy — I know, the perfect name for a florist! I have always been captivated by the beauty of flowers, ferns and plant life so Poppy Lavender Florals was a natural progression from hobby to career. One thing I love to do is selling specialized bouquets to my local community from my converted flower truck. Working on weddings have been a great source of joy for me, I love meeting my clients at the DTLA flower market and helping them build their perfect floral story. I've equally enjoyed working on events with big name clients (Facebook, Google, Tiktok) as much as I love hosting floral centerpiece workshops. After years of working in this industry I am still in awe and enamored by flowers and am grateful for the opportunities. Follow along on IG @poppylavenderflorals and feel free to reach out anytime!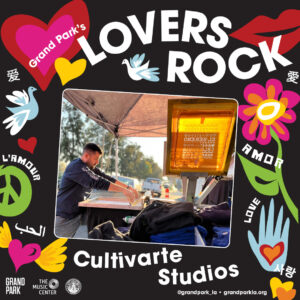 Cultivarte Studios
| Cultivarte Studios is a framing and screen printing community business based out of South East Los Angeles California founded by Rey Sepúlveda. Since 2010, we have dedicated our service to our neighborhood residents and community artists that wish to create and/or preserve their artwork using quality materials at a cost efficient price.
Beyond providing a service, Cultivarte Studios seeks to share our skills and knowledge as well as learn from other talented artists who work to cultivate art and culture in their respective communities.
Influenced by our community and a sense of self-sustainability, We utilize our space as an artistic platform to instill positivity and foster an environment where culture and artisan practices can be kept alive