Gloria Molina Grand Park Downtown Día de los Muertos 
October 22rd – November 2
nd
, 2022 
Gloria Molina Grand Park's Downtown Día de los Muertos honors people, places and ideas that merit reverence and commemoration. Gloria Molina Grand Park's Downtown Día de los Muertos is a community-oriented space inviting park-goers to contribute to the community altar, ideated by artist and educator Consuelo Flores and to stroll through the park viewing numerous altars made by professional artists and local organizations. Additional public programs and activities on the opening day to include, poetry reading by Women Who Submit and Luis Rodriguez, musical performance by Las Catrinas Mariachi Band, dance performance by Grupo Folklorico Huitzillin with Teatro Aztlan, sugar skull decorating with East Los Sweets and colorful chalk art with KDaze Art. Plus professional face painting with Color Me Face Painting.   
Including altar installations by: 
Consuelo Flores 
Self Help Graphics 
Alain Norte  
Beatriz de Alba Spears  
Carolyn Castaño  
Denise Esparza  
The Latino Theater Company 
Familia Flores 
Gian F. Norte  
Ginette Rondeau  
Generaciones en Acción 
The Wall Las Memorias   
Jessica Monares  
LADWP Society of Hispanic Engineers  
Latino Outreach+Understanding Division (LOUD) 
Marissa Magdalena Sykes  
Tía Chucha's Centro Cultural 
Mexican Cultural Institute & José Antonio Aguirre 
Richard de Alba 
Rock Rose Gallery 
Rose Portillo  
United to House LA (ULA) 
Women Who Submit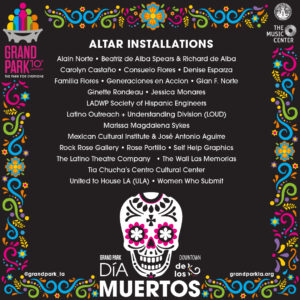 Curator's Statement
By Consuelo G. Flores 
Los Angeles is comprised of different communities with rich, impactful histories and cultural contributions. What you'll see as you walk through Gloria Molina Grand Park are exquisite threads that create tapestries that focus on legacies, families, and the beauty of our diverse Latino community. 
Día de los Muertos/Day of the Dead at Gloria Molina Grand Park, offers Los Angelenos and city visitors the opportunity to interact with an intimate and important component of the celebration – the ofrendas/altars. Each installation gives the viewer a glimpse of the person(s) being remembered, who they were in life, what was important to them, what brought them passion, what their impact was on those still living and especially how they were loved. As you visit with each ofrenda, perhaps you can imagine sharing a cup of coffee or a sip of tea or getting a good book, movie or play recommendation from those who are being remembered.  
Each altar is dedicated to people like you or me or someone we know, who lived, loved, and became part of our community. Sometimes they were here for a long time, sometimes for a short time – but always an impactful, memorable time. 
As you interact with and learn from each ofrenda, remember what the Día de los Muertos/Day of the Dead celebration is in three simple tenets:  
To remember, honor and memorialize those who we've lost.

To come to terms with our own mortality.

To celebrate life – ALL LIFE – every day.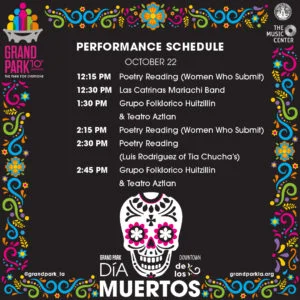 Gloria Molina Grand Park Performance Schedule | October 22 (During Grand Ave Arts All Access)
12:15 PM Poetry Reading (Women Who Submit)
12:30 PM Las Catrinas Mariachi Band
1:30 PM Grupo Folklorico Huitzillin & Teatro Aztlan
2:15PM Poetry Reading (Women Who Submit)
2:30 PM Poetry Reading (Luis Rodriguez of Tia Chucha's)
2:45 PM Grupo Folklorico Huitzillin & Teatro Aztlan
East Los Sweets – sugar skull decorating booth 
IG & FB: @eastlossweets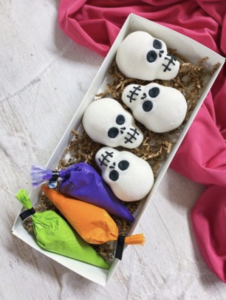 KDaze – chalk artwork  
IG: @kdaze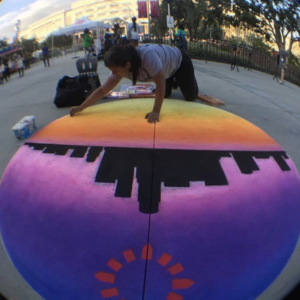 Color Me Face Painting – professional face painting booths  
IG & FB: @colormefacepainting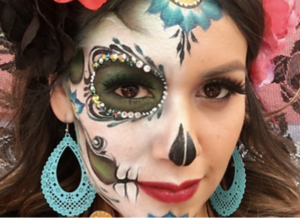 2022 Gloria Molina Grand Park's Downtown Día de los Muertos Artists 
(No Particular Order)
Alain F. Norte 
"Never Forget Where/Who You Came From"
Celebrating family that holds us together and gives us strength to move forward.
Alain F. Norte is an illustrator and designer from Los Angeles.  He's worked in the video game, film/tv, video/web production and book/comic book design industries. Growing up Day of the Dead was always a huge part of his life and a family tradition each year. Now as an adult he's finally starting to feel his culture and roots more strongly.
Beatrice & Richard de Alba 
"Amor y Arte"
Dedicated to family members and artist friends who have passed. We will be incorporating a family altar with tributes to various street artists. It will include a main altar complete with all of the traditional elements as well as original graffiti art designs on wood.
Beatrice De Alba is a Chicana artist and hairstylist born in Boyle Heights, California. Beatrice began her career as a hairstylist in both film and television when she was in her early 20's. She won an Oscar and a BAFTA in 2002 for her work on the film Frida. She was also nominated for an Emmy for her work on the Lifetime movie Liz and Dick in 2012. She is now using her experience as a hair sculptress working in film and with actors to create conceptual art works based on the juxtaposition of fantasy and reality. Working behind the scenes in Hollywood puts her in a unique position to create art drawing from her aesthetic experiences in fashioning the illusory environs of glamour and beauty. Her pieces are visceral and also portray the effects that her career has had on her life.   
Richard De Alba is an Emmy nominated Chicano artist born and raised in Los Angeles and New York City. He attended the school of visual arts in Manhattan where he majored in fine art. In his early 20s Richard began a successful career as a hairstylist in the film industry where he was nominated for an Emmy for his work on the lifetime film "Liz And Dick".  Richard goes by the name Hare and is a member of three historic Los Angeles graffiti crews. Richard has always had a love for miniatures, animation and film. Currently he has merged his love of graffiti with his love of miniatures, creating tiny worlds covered in graffiti and street art. His ultimate goal is to make movies, shorts and music videos using his miniatures, puppets and storytelling.
Carolyn Castaño
"Ancestros Iluminados /Iluminated Ancestors"
My Day of the Dead altar is dedicated to my late father Jairo Castaño and my aunts and uncles who have recently passed away, specifically Jose Maria Castaño, Hernan Castaño, Gustavo Castaño, and Maruja Ramirez. The altar centered around my father Jairo Castaño and uses his photography to tell the story or stories about their lives. Jairo emigrated from Cali, Colombia to Los Angeles in 1962 and worked in many industries as an electrical circuit board maker, screen printer, and laborer.
Carolyn Castaño is a Los Angeles-based artist who uses eco-feminist frameworks in painting, installation, video, and artist books to explore the landscape, migration, female and family identities in works that juxtapose drawing, photography, performance with patterns found in textiles, design, and geometric abstraction. Her work has been exhibited both nationally and internationally in Cali es Cali at the Orange County Museum of Art, Carolyn Castaño: A Female Topography 2001-2017 at Loyola Marymount University's Laband Art Gallery; We Must Risk Delight-Twenty Artists from Los Angeles at the Magazzino Di Sale; Phantom Sightings at LACMA and International Paper at the Hammer Museum. Carolyn has had solo exhibitions with Walter Maciel Gallery in Los Angeles, Kontainer Gallery, Los Angeles, and Lombard-Freid Gallery, New York. Ms. Castaño received her Bachelor in Fine Arts from the San Francisco Art Institute in 1995 and a Master in Fine Art from UCLA's School of Art & Architecture in 2001.
Consuelo Flores (Curator and Community Altar Artist in Collaboration with Self-Help Graphics)
Consuelo G. Flores is an LA based multi-media artist and educator of Latino culture with an MFA in Creative Non-Fiction from Antioch University. She has written about and lectured on the traditional and contemporary history of Day of the Dead. Her altars/ofrendas have been featured on Good Morning America, ABC News, AP News, NPR, Medium, Telemundo, Estrella, and the Los Angeles Times. She's built site-specific altars for the Craft Contemporary Museum, the Irvine Fine Arts Center, Cerritos College, Self-Help Graphics, SPARC and many other prestigious venues and has given DOD tours for LA Metro. Consuelo has curated Day of the Dead art exhibits, including the exhibit of José Guadalupe Posada's iconic work at the Fullerton Museum and the 2022 altar installations at Gloria Molina Grand Park for the County's Day of the Dead celebration.  
Denise Esparza 
"Amorcito Corazon"
Honoring family and friends that have passed in the recent 2-3 years.
Denise Esparza, a Chicana altarista, born 1966 in East Los Angeles. She is the daughter of Ofelia & Amado Esparza, the youngest of their nine children. Denise represents six generations of altar makers of Purepecha roots, hailing from Guanajuato, Mexico. Her work as an altarista and handcrafter was heavily influenced by her mother, Ofelia Esparza, who is globally recognized for her Day of the Dead ofrendas (altars/shrines) and by her grandmother Lupe Aviles Salazar. Esparza has assisted her mother in hundreds of altars throughout her life, including those at Self-help Graphics & Art in Los Angeles. It is these experiences that have inspired Denise to venture out on her own in the last seven years as an altarista in her own right and most recently at Boston Court Pasadena|Performing Arts Center. She continues in these traditions with her 4 children and 4 grandchildren. Remembering those who have passed in our family, celebrating their lives, sharing their stories and keeping their memory alive for generations to come, never to be forgotten. It is this reason that Denise is continuing the tradition of alter making – a family legacy.
Generaciones en Accion
"Honrando a Nuestros Ancestros, Intergeneracional y Multiculturalmente"
As our organization works to promote the unity between intergenerational immigrant families living in Los Angeles, we wanted to keep a traditional Latin ofrenda, highlighting intergenerational families of different Latin cultures. In essence, we want to show that it is not just the elderly we have to remember, but there are generations of our ancestors we take into account during this holiday. We want to capitalize on the diverse Latin immigrants we have here in Los Angeles and will be representing as many of these Latin countries as possible.
The ultimate goal for Generaciones en Acción is to mobilize the immigrant community in Los Angeles to become leaders in their families and communities. GEA hopes to promote a culture where immigrants understand, defend, and speak out for their own rights as human beings–where they have the tools and empowerment to pursue their personal, professional, and relational life goals.
 Gian F. Norte
"Peepooh"
Dedicated to his father-in-law who passed away last Christmas. The installation will be 5 pieces in the shape of Elote's with a calavera face on each and small detail. The pieces will be made out of chicken wire and other mixed media.
Gian Flores Norte is a graphic and visual artist from Los Angeles, California. Art was a daily activity and eventually became a core part of his life. Both of his parents are known Chicano artists. His mother is a poet, playwright and renowned Day of the Dead altarista, his father is a painter, silk screen printer, illustrator, and set/costume/prop designer. Gian was exposed early on to the East Los Angeles art scene through his family, both biological and culturally, by the artists from the internationally acclaimed arts organization, Self Help Graphics, in Los Angeles, where he was part of the Summer of Youth (SOY) Artista Program from his early to late teens. After working as a painter and illustrator Gian created a following as a tattoo artist when he interned at SA Studios with Mr. Cartoon and Esteban Oriol. He then moved into lifestyle and product photography while working for Han Cholo jewelry and The Hive Gallery, where he is currently a resident artist. 
Ginette Rondeau
"Our Eternal Love, A Celebration of Life!"
We tragically lost my grandnephew, Abraham James Clugston, earlier this year. He was 2 years old. He was so full of love and energy. Whenever I visited him, he would giggle and fill the house with joy and laughter. In my grieving, I imagined him being greeted by my family that had passed in the heavens above. I envisioned my mother and grandmother celebrating his arrival–with him giggling during his new adventure. My altar will be a celebration of all of them having a wonderful time together. It will be dedicated to my beloved ones. I want to make it magical like him. My cousin, Rebecca Brooks, will be assisting me. She is Abraham's grandmother. I am hoping to include my Mailbox to Heaven where people can write letters to their loved ones that have passed.
Life-long Angeleno, Ginette Rondeau has led a rich, vivid and exciting life, from growing up in a historical monument to working as a professional curator and artist. Ginette was a founding board member of the Downtown Arts Development Association (DADA), and curated "DADA 98!" (45,000 sq. ft.) highlighting over 300 Los Angeles artists, as well as Olvera Street's Día De Los Muertos art exhibits for 20 years. She also owns and operates the store her grandmother founded on Olvera Street and designs featured on many of her products. Ginette's art has been exhibited in numerous venues, including: The Museum of Latin American Art, CECUT Museum, Mexico in conjunction with the Museum of Mexico City with her installation of the Mailbox to Heaven, Las Laguna Gallery, Laguna Beach, El Camino College, Fremont Gallery in Pasadena, Redondo Beach's "Power of Art," Palos Verdes Art Center, The Museum of the San Fernando Valley, Self Help Graphics, El Pueblo Gallery on Olvera Street, Chim Maya Art Gallery and the Hollywood Forever Cemetery's Mausoleum (featured artist).
Jessica Monares
"Eastman Ave. y Bonnie Beach Pl. y Hancock St. y Dunn Ave. y Riggin St."
This altar is dedicated to the ancestors who sacrificed for the beautiful life I have today. The aesthetic foundations of the altar are inspired by my abuelito, Federico Caballero Monares who broke his body as a concrete craftsman, pouring concrete for gas stations all over Los Angeles. Although he had a rough exterior, once during a stressful time I overheard him telling his friend that I was a chingona and I had never felt so proud. The photos in boxes are in honor of my maternal abuelo Arturo Dominguez, who passed long before I was born, my Tio Arturo Dominguez Jr. and Tia Dolores Dominguez who shared a love of vintage and gardening and whose potted desert plants are featured on the altar. My suegro Jose Luis Jimenez who left this earth right before my love and I first crossed paths, leaving me my childhood friend turned magical partner.  I owe much to these spirits and am grateful to be able to honor them here in the middle of the city that has been the backdrop of our family history.
Jessica Monares is a multidisciplinary artist and educator from and living in East Los Angeles. Her works explore ideas of formal and informal shrines and reliquaries as well as traditional sign painting.
Rock Rose Gallery
"From Artists to Angels"
A memorial tribute to Inner City Cultural Center.
The Los Angeles Inner City Cultural Center, founded by C. Bernard Jackson and Dr. J. Alfred Cannon, arose "out of the ashes" of the 1965 Watts Rebellion in Los Angeles and mounted its first productions in 1967. Its founders envisioned ICCC as a vehicle for increasing cross-cultural communications among the various minority groups in Los Angeles, making use of the performing and visual arts in the healing process, and offering performing and technical career development opportunities in the arts to previously excluded minorities.
The Inner City Cultural Center was the nation's first minority owned and operated multi-cultural, multi-ethnic, multi-racial and multi-disciplinary visual and performing arts institution, with a core philosophy of incorporating color-blind and non-traditional casting into all aspects of its programming. While the terms "Diversity, Equity and Inclusion" are top-of-mind in today's social climate, they have been core principles at Inner City Cultural Center from the beginning and will remain so into the future. We invite you to explore this website to get a more complete picture of our unparalleled cultural legacy and learn how you can support us.
Latino Theater Company 
"Puro Teatro"
Dedicated to the artists and supporters who dedicated their life to theater.
The Latino Theater Company's (LTC) mission at The Los Angeles Theatre Center (the LATC), is to provide a world-class arts center for those pursuing artistic excellence; a laboratory where both tradition and innovation are honored and honed; a place where the convergence of people, cultures, and ideas contribute to the future.
Marissa Magdalena
"Vin Scully"
I am building this altar to honor the legendary Vin Scully. I aim to highlight Vin's inimitable career with photos and quotes. All the traditional altar elements will be present in a way that furthers the themes of Vin's life. Papel picado pennants, calaveras in Dodger uniforms, and cempazuchitl made from Dodger blue and white tissue will honor the fact that Vin has been an institution for generations of Chicanos in Southern California and beyond. Viewers may leave their memories of Vin as part of the offenda as well. Having just lost Vin in August, this will be an important way for the Los Angeles community to come together in gratitude for his legacy.
Marissa Magdalena Sykes is a conceptual artist who enjoys questioning the norms of physical and social space. Her artwork straddles mediums as object, image, and live performance. Marissa cultivated a dramatic aesthetic amid the dressing racks and theater sets of California's San Joaquin Valley where she grew up. The juxtaposition of Marissa's farming community roots and current urban backdrop is a wellspring of inspiration. Her work has been shown at 18th Street Art Center, Arte Americas, Avenue 50 Studios, The Bakersfield Museum of Art, Self Help Graphics, undisclosed locations in Tehran, and elsewhere. Marissa is the Director of Arts Education at Angels Gate Cultural Center and a lecturer for UCLA's Visual And Performing Arts Education Program. She is an alumnus of Otis College of art and Design. 
The Wall Las Memorias
For this year's Altar, we are using the traditional elements like, flor de cempasuchil, salt,water, papel picado and more much little details, to create an atmosphere of traditionand respect for those who has passed away from HIV/AIDS, during the pandemic andfor trans people.
The Wall Las Memorias (TWLM) is a community health and wellness organization dedicated to serving Latino, LGBTQ and other under-served populations throughadvocacy, education and building the next generation of leadership. The Wall Las Memorias serves low-income and hard-to-reach communities throughout Los Angeles educating community members on the importance of HIV and AIDS, substance abuse prevention, mental health stigma reduction for LGBTQI2-Stransitional-aged youth (TAY), transgender women health and wellness, non-binary health and wellness, and community building in the marginalized communities. For more than 28 years, the organization has helped eradicate stigma and bigotry, and created a safer place in our communities for dialogue, community building, education and prevention services for this devastating epidemic using its AIDS Monument as a catalyst for social change.
Tía Chucha's Centro Cultural & Bookstore 
"Mictlancihuatl: Our Feminine Caretaker of Mictlan, The Place of Rest"
Tía Chucha's Centro Cultural & Bookstore mission is to transform community through ancestral knowledge, the arts, literacy and creative engagement. TC provides a positive space for people to activate their natural capacity to create, imagine and express themselves in an effort to improve the quality of life for our communities. Tía Chucha's, founded in 2001, serves the Northeast San Fernando Valley, a primarily marginalized Latinx community of nearly 500,000 people with no other full-fledged cultural art spaces or bookstores. TC is a critical bridge for families and individuals to explore their innate creative gifts through relevant programming. Tía Chucha's offers our arts-based programming infused with Indigenous-based knowledge because our 20 years of practice has proven it improves and restores the mental (and emotional and spiritual) wellbeing of our community participants. TC's independent bookstore consciously reflects our communities' culture and aspirational values. Tía Chucha Press is one of the country's leading small cross-cultural presses, publishing socially engaged poetry and literature.
United to House LA 
"Tener Un Techo, Es Un Derecho"
This altar includes elements reminiscent of home, miniature houses and opportunities for locals to leave offerings for their loved ones, along with traditional paper flowers, real cempasúchil, and tenant rights papel picado. The intention is to recreate Los Angeles and represent the many tenants across LA County who lost their lives to displacement.
United to House LA (ULA) is a measure on the November 8th ballot crafted by Los Angeles tenants and community organizers. It places a 4% tax on any $5 million mansion sales in the City of LA and redirects those funds with community oversight toward creating affordable housing, offering legal representation to tenants in eviction court, & supporting low-income seniors and folks with disabilities with their rent. Vote Yes on ULA! 
Community organizers on the Eastside Measure ULA campaign have been working with tenants throughout the pandemic and shared the weight of those lost throughout their communities. Many of these losses were preventable and initially triggered by one of the greatest factors of displacement in LA County: evictions. Despite eviction moratoriums, tenant protections and the Emergency Rental Assistance Program (ERAP), thousands of Angelenos were forced out of the only homes they knew. The Measure ULA Campaign dedicates this altar to them. To join the fight for equitable housing, please visit unitedtohousela.com.
Women Who Submit
"Writers Altar: Honoring Storytellers"
I'll continue
fill the void of your absence with 
love between me and ours 
gods 
– Wanda Coleman, Unofficial Poet Laureate of Los Angeles 
Our altar honors storytellers. The woman-identifying and non-binary writers on the altar were chosen from our WWS, Los Angeles, and Southern California communities. Often overlooked because of gender, race, orientation, health, and class, we lift up these writers' voices just as they lifted up marginalized writers in their lifetime. We want to ensure their contributions are honored in this life and their names remembered into the afterlife. We thank mother earth for holding all our stories while we live on this plane, and we ask our ancestors and our gods to welcome these writers into the beyond.  
With this altar we celebrate Barbara Abercrombie, Octavia Butler, Wanda Coleman, Camila María Concepción, Joan Didion, Natalie Smith Parra, Kit Reed, Michele Serros, Tatiana de la Tierra, and Yvonne de la Vega. 
We make this offering in love and respect for all the poems and stories that go unheard, unpublished, and unrecognized.
Women Who Submit (WWS) seeks to empower woman-identifying and non-binary writers by creating physical and virtual spaces for sharing information, supporting and encouraging submissions to literary journals, and clarifying the submission and publication processes. Our programming aims to minimize physical, mental, and emotional barriers to submission, publication, and advancement as an action for gender parity and wider representation in literary publishing. WWS is a Los Angeles-based literary arts organization founded in 2011 by co-founders, Alyss Dixson, Ashaki M. Jackson, and Xochitl-Julisa Bermejo. WWS's programs are supported by a 9-person Leadership Team and 9-person Board of Directors.
Rose Portillo 
"Isa Meksin, an Echo Park Legend"
This altar for Gloria Molina Grand Park 2022 is in honor of Isa Meksin (1928-2022), an Echo Park legend, an activist well known to City Hall. She was a Distinguished Educator and declared Woman of the Year in 2018 by Congressman Adam Schiff (congressional record). Born in Ukraine, her family moved to the USA in the 1930s and she came to LA in 1953. She had an indomitable spirit – a rabble rouser, a fierce lover of justice, an advocate for the arts… The altar reproduces some of her artwork from when she was 15 yrs old, originally drawn in pencil on the back of a receipt book. "You can turn anything into Art."
Rose Portillo is an actor/writer/director/educator and visual artist. She is a veterana of stage, screen and TV. She is known for originating the role of Della in Luis Valdez's Zoot Suit and returned to play Dolores in CTG's 2017 revival at the Mark Taper Forum. More recent highlights include Vida, Disney's Encanto and an upcoming recurring role on The Rookies. As a visual artist she is known for her Dia de los Muertos altars (some sites include Self Help Graphics and Art, Inc., Plaza de la Raza, and Avenue 50 Studio); and for her Rosaics – mosaic work with broken tiles and found objects. She was also part of Self Help Graphics first all women atelier led by Yreina Cervantez. Rose is a respected master teaching artist and community builder and a faculty member in the Theater Department at Pomona College. Honors include: The Los Angeles Womens Theater Festival's Maverick Award; La Opinion's Mujeres Destacadas Award; Playwrights Arena's Lee Melville Award for outstanding contributions to the L.A. Theater Community; Recognitions by the City of Los Angeles for various artistic contributions.
The Familia Flores
"Let's Take a Cruise Down Memory Lane"
Dedicated to the Lowrider community and culture. Representing parts of East L.A. area places and people who contributed to its history, like Ruben Salazar.
We are The Familia Flores, a family of five. We are a family that is always using our skills, imagination, and creativity. We love sharing our skills to improve not only ourselves but our community as well. Arnoldi Flores aka (Stax) which is his artist name is known for painting murals around his community with his daughter Angelina Flores age 17. Angelina Flores is in an art academy in high school and also part of Las Fotos Project. On the weekends Angelina attends many community events capturing images of people in her community. Suly Flores who is the mother of the family assists in supporting them and encouraging her family by organizing ,emailing, contacting, and scheduling events for her family's interest. Raul Flores who is 15 years old is an actor for short films. He was also recognized as a young boy representing the face of the lowrider community in At&t billboards of himself and his lowrider bike all over the Los Angeles area. Some people in his community call him the At&t 213 kid. He also runs a lowrider bike club "Bikes On The Blvd". Raul and his friend Jessie started this bike club during theCovid-19 pandemic for teens like him to have healthy hobbies and interest instead of looking for trouble and to help them be physically active. He started the bike club "Bikes On The Blvd" with only 3 members. Now the bike club is in their 3rd Annual year with more than 30 members. Melody who is the youngest in the family who is only 5 years old is growing up loving her family, culture and community. Who is also slowly developing her art skills and her imagination.
Mexican Cultural Institute of Los Angeles 
"Mujeres de Lucha, e Interrupidas/Fighting and Interrupted Women"
In memory of those Mexican women who dedicated their lives to the service of their people, as well as those who perished along the way. Among them, Rosario Ibarra de Piedra, considered a pioneer and reference in the defense of human rights, peace and democracy in Mexico. Her light has gone out, but there are still many that illuminate, and every day others are lit to continue her legacy of struggle for inclusive justice in society.   
A road of marigold flowers with a central image of Rosario Ibarra de Piedra  
A banner framing the head of the offering, with a picture of Rosario and one of her quotes. Candles to light the way.
Other names to be included: 
Kimberly Melissa Díaz Ortíz (14 años). Debanhi Susana Escobar Bazaldúa (19 años). Arith Alejandra Landeros Montaño (25 años). Jessica González Villaseñor (21 años, maestra). Ximena Monserrat Martinez Rangel (16 años). And more.
Artist: José Antonio Aguirre was born in Mexico City. He has a Bachelor of Visual Arts from the School of the Art Institute of Chicago and a Master of Visual Arts from the California Institute of the Arts (Cal-Arts). 
Aguirre has executed more than 35 permanent public art projects for public and private, civic and educational programs in Southern California, Chicago, Denver, San Antonio and Mexico, in addition to numerous collective and individual exhibitions in cultural centers, galleries, and museums. His work is part of various government and private collections in the United States, Europe, and Mexico. His professional career of almost four decades has positioned him with a solid reputation, not only as a visual artist, but also as a cultural promoter and educator in the visual arts. 
Organization: The Mexican Cultural Institute of Los Angeles is committed to educate the public regarding the historical and cultural contributions of Mexico to the greater Los Angeles area and the United States by providing a central location for public educational programs, which manifest the diversity of Mexican Culture with a variety of artistic and cultural dialogues with the local community.
Latino Outreach + Understanding Division
"Despierta DACA"
This altar will serve to honor individuals that have lost their lives in ICE detention centers and recognize the uncertain future of the program DACA (Deferred Action for Childhood Arrivals).
Latino Outreach and Understanding Division (LOUD) is a volunteer-driven event marketing social organization powered by AIDS Healthcare Foundation (AHF). LOUD works to build healthier and more empowered Latinx communities by educating, motivating, and advocating for Latinos across the United States.
AHF's Latino Outreach and Understanding Division (LOUD) was founded in 2013 by Latinos determined to make a difference in their community. Powered by AHF, LOUD works to fight HIV and AIDS in the Latinx community and supports other critical Latinx issues. We employ marketing initiatives that are culturally relevant and effective at encouraging positive behavioral change in Latino communities throughout the United States. Our work connects at-risk Latinx sub-populations (youth, LGBTQ+, women, undocumented, and others) to HIV prevention methods and quality medical care. Using creative marketing that authentically speaks to the Latino community, we can educate, advocate for, and motivate Latinos across the United States.
Los Angeles Department of Water and Power 
"Teotihuacan: The City of Gods, Standing on the Shoulders of Giants" 
Celebrating the life of Rodrigo Garcia, founder of the Society of Hispanic Professional Engineers, and a tribute to the fallen heroes of the LADWP and American Society of Civil Engineers Younger Member Forum.   
SHPE believes the most pressing problem facing the STEM industry is that the workforce has yet to reflect the diversity of our nation. We are bridging the gap between Hispanics and STEM 
SHPE changes lives by empowering the Hispanic community to realize its fullest potential and to impact the world through STEM awareness, access, support, and development.
The Los Angeles Department of Water and Power exists to support the growth and vitality of the City of Los Angeles, its residents, businesses and the communities we serve, providing safe, reliable and cost-effective water and power in a customer-focused and environmentally responsible manner.