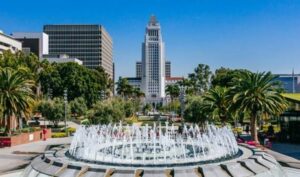 Gloria Molina Grand Park, powered by The Music Center, celebrates its yearlong 10th anniversary with a spectacular two-day festival for the entire family filled with live music performances, innovative art installations, wellness workshops and activities and more. The weekend celebration, October 8 – 9, 2022, highlights the signature free events that laid the foundation over the past decade for Gloria Molina Grand Park to become L.A.'s central gathering place and honors the legacy of performers, artists, community partners, audiences and parkgoers who helped to shape Gloria Molina Grand Park as the park for everyone.
October 8 | 10th Anniversary Concert
Time 6-10PM
Location Block 4 Event Lawn
Gloria Molina Grand Park will host an evening concert featuring live performances by longtime global music artists and partners who have filled Gloria Molina Grand Park with their unique sounds over the past 10 years. Hosted by Anthony Valadez and Novena Carmel, the four-hour music fest includes performances by Tolliver, Boogaloo Assassins, Maya Jupiter, and Las Cafeteras. Concertgoers can purchase culinary delights and beverages from some of L.A.'s favorite food trucks.
SCHEDULE
6:05pm -6:15pm Intro | Anthony Valadez & Novena Carmel
6:15 pm -6:45pm Tolliver
6:45pm -7:00pm Novena Carmel
7:00pm -7:35pm Maya Jupiter
7:35pm -7:50pm Anthony Valadez
7:50pm -8:35pm Boogaloo Assassins
8:35pm -9:05pm Novena Carmel & Anthony Valadez
9:05pm -9:55pm Las Cafeteras
9:55pm -10:00pm Outro | Anthony Valadez & Novena Carmel
*Performers and show times subject to change without notice…
PARTNERS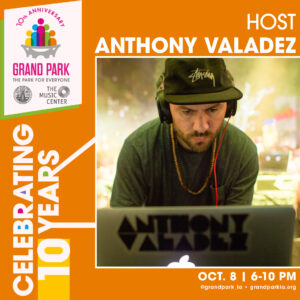 Anthony Valadez | Valadez served as host for Fuse TV's Crate Diggers in addition to being on air with KCRW since 2008. In 2021, Valadez launched KROQ's first Latin focused music program, ALTERNALIDO which spotlights the contributions of Latinx bands and artists.  He's released official remixes for Ozomatli, David Bowie, Local Natives in addition to 3 album releases. In 2016 he was handpicked by Jennifer Lopez to open for her homecoming show in the Bronx. That same year he won the LA Weekly's Reader's Poll for Best Club Dj in addition to dj residences in Vegas, The Natural History Museum and around Los Angeles.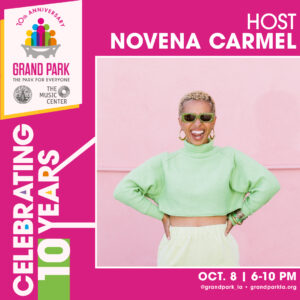 Novena Carmel | Novena Carmel was born and raised in the San Francisco Bay Area surrounded by her mother's record collection, classical music books atop her piano, and a deeply rooted musical legacy. Her father, Sly Stone of Sly & The Family Stone, instilled in her the love of the funk and the brilliance of "everyday people." She launched her DJ career seven years ago, which quickly took off, fueled by her lifelong love of sharing the music she loves with people, her infectious energy and ability to read a room.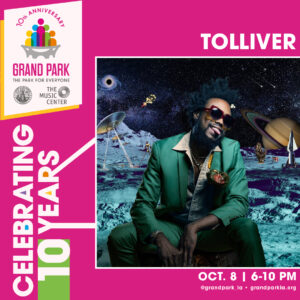 Tolliver | Tolliver is the son of a preacher, but his music is anything but holy. His songs are a gumbo of soul, funk, pop, and camp, as funny as they are soul-baring. His recent EP 'Daddyland' is about reconnecting with his late father via the astral plane and realizing that he has more in common with his devout-yet-very-flawed father than he ever knew.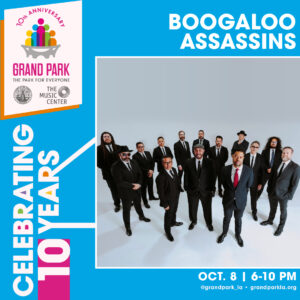 Boogaloo Assassins | Boogaloo Assassins are a 14-piece Latin Boogaloo, Salsa, and Latin Soul group from Los Angeles, California. An LA/OC live music favorite since 2008, their independently released 2013 debut album OLD LOVE DIES HARD was inspired by the soulful Latin records of the 1960s, and their 7-inch lead single "No No No" took radio and dancehalls around the world by storm.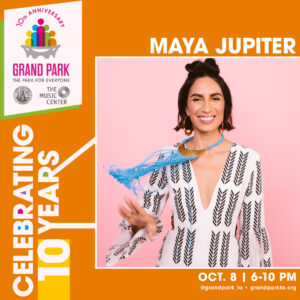 Maya Jupiter | Maya Jupiter is a Mexican/Turkish Hip Hop Artist, raised in Sydney, Australia. She is unwavering in her work as an Artivist writing songs about social justice issues. Maya co-founded Artivist Entertainment to support artists who use their work to promote positive social transformation and has facilitated song writing workshops for underserved youth for the last twenty years. Now raising a family in Los Angeles, Maya continues to explore themes that intersect feminism, activism, and revolutionary motherhood in her music. She is currently working on an EP produced by Georgia Ann Muldrow.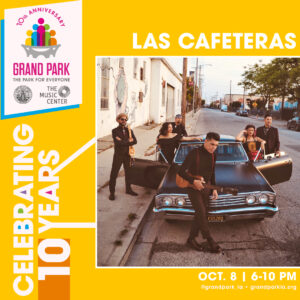 Las Cafeteras | Born and raised east of the Los Angeles river, Las Cafeteras are remixing roots music and telling modern-day stories of Latino and immigrant lives. Using traditional Son Jarocho instruments like the jarana, requinto, quijada (donkey jawbone) and tarima (a wooden platform), Las Cafeteras sing in English, Spanish, and Spanglish and meld styles, from rock to hip-hop to rancheras. Las Cafeteras use music as a vehicle to build bridges among different cultures and communities, and create "a world where many worlds fit".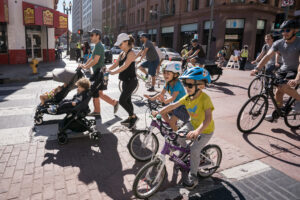 October 9 | 10th Anniversary Family Festival + CicLAvia's Heart of LA
Time 9AM-4PM
Location Block 4 (Event Lawn)
Gloria Molina Grand Park's 10th Anniversary Family Festival invites families and individuals to engage in wellness activities, music, dance, food and event happenings. The programs will spotlight our long-time community partners, non-profits and small businesses with workshops and events that raise awareness and exemplify the power of creative expression. The morning celebrations can be experienced in four parts.
• 9a-4p CicLAvia Heart of LA | Join us along the ride with Gloria Molina Grand Park's cycle ambassadors.
• 9a-4p The Oasis Community Wellness in partnership with the Tree Yoga Cooperative| meditation, yoga, massage, sound healing, wellness activitiesand more.
• 9a-4p The Grand Garden in partnership with Streetlet | family activities and marketplace, performances, workshops, music and dance.
• 1p-4p Movement Stories | featuring Cornerstone Theater Company and CONTRA-TIEMPO Activist Dance Company | Immersive theater storytelling and movement experiences CicLAvia Heart of LA+ Gloria Molina Grand Park CicLAvia, Gloria Molina Grand Park's longtime partner, engages public spaces, active transportation, and good health through car-free events will lead the day with their signature "Heart of LA"ride.
SUNDAY STAGE PROGRAM*
The Oasis
9:05am – 9:10am Kelly Caballero
9:10am – 10:00am Family Yoga, The Tree Yoga Coop
10:05am – 11:05am Dorian's Live Neo soul & Yoga
11:10am – 11:50am Mindful Movement, Babes of Wellness
The Grand Garden
12:00pm – 12:15pm Tina Calderon
12:30pm – 1:15pm Vijunns
1:30pm – 2:00pm Nevenka Ensemble
2:15pm – 2:45pm Sadubas
3:00pm – 4:00pm Cornerstone Theater Company & CONTRA-TIEMPO Activist Dance Theater
Durational Programming
Animal Cracker Conspiracy – 3 stilt walkers performing every hour on the hour
Megan The Bubbleologist – 2 hours of bubble magic
*Performers and show times subject to change without notice…
PARTNERS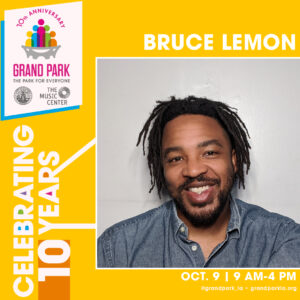 Bruce Lemon | Bruce Lemon is a storyteller born and raised in Watts, CA. As a child, his father made him write stories and read them aloud in the hallway as punishment for lies and mischief. He's still in trouble. Host of 89.3 KPCC In-Persons UnheardLA. Associate Artistic Director/Ensemble with Cornerstone Theater Company, Co-Artistic Director of Watts Village, Company member of  Collaborative Artists Bloc and an Illyrian Player 
THE OASIS
Healing & Wellness Clinic Booths (9am-12pm)
• Massage Therapy Nataly & We Choose Wellness
• Community Acupuncture Jenny Garcia & Marigold Acupuncture
• Reiki Sessions Gea Muhammad
Oasis Community and Market Place (9am-4pm)
Compton Health Bar: a community wellness space offering herbal remedies that are rooted in ancestral healing traditions.
Dorian's Live Neosoul & Yoga: Trained as a Yoga Teacher at Social Justice Based The Tree SOUTH LA CO-OP, a Reiki Master, Kripalu Bodyworker and singer in the music for healing program at Cedar's Sinai Hospital in Beverly Hills, Dorian works to create a kind of medicine through music that empowers people – body, mind and soul.
Mental Note by Imani Tawfiq: (Tawfiq's Publishing Co.): Rasheeda Jones is a mental health advocate, community organizer and author of a children's book titled "Justice," which supports children and families impacted by incarceration through exploring ways to cope.
Babes of Wellness: Babes of Wellness is a Latina Queer owned all women's boutique gym in South LA (Compton) bridging the world of mental and physical health into a wellness sanctuary.
OYA: OYA Femtech Apparel is sportswear that fights feminine health issues. Our patentable designs and fabrics absorb moisture, reduce bacteria, and increase natural ventilation.
Arts, Culture & Nature Family Area: (9am-4pm)
Cultivarte (Art Skills and Screen Printing): Cultivarte Studios is a framing and silk screen printing business based out of East Los Angeles, operated by Rey Sepúlveda.
Plant Chica (Seedling Bar): The Plant Chica is a black and brown owned nursery and gardening shop that specializes in wish list plants: plants that are normally only found in warm climates, plants that aren't commonly available in stores, and other unique plants that Sandra loves and thinks others will love, too.
Con Todo Press (Children's Book Reading): Con Todo Press is a Latina-owned publishing company that creates children's books that celebrate Latino leaders and culture to help fill the gap in the publishing industry, where Latina/o/x stories are vastly under-represented.
THE GRAND GARDEN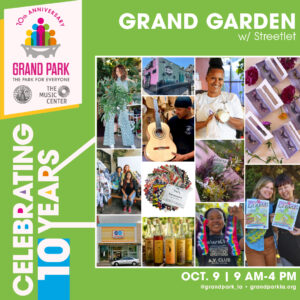 826LA and the Time Travel Mart
Good deeds meet high concept in this time-bending retail installation that supports a partnered non-profit inspiring students to write.
• Host in-school writers' rooms in 2 LA schools
• Sell "time travel supplies" in a mock convenience store space
• 826LA students collaborated with artists on an album titled Chickens in Love
Interactive: Postcards to the Future, a writing station where attendees can fill out and send postcards to themselves
Candelas Guitars
Classic Luthiers (craftsmen of stringed instruments) restoring guitars & creating bespoke customs.
• Multi-generational business that began in Mexico
• The first US store opened in 1947 in Boyle Heights
• Established a foundation to further arts & music enrichment in the community
Interactive: Mini-guitar lesson (with guitars provided onsite)
G.IRL | Compton G.IRLS Club
Providing girls & gender nonconforming from underserved communities access to resources, knowledge, and skills not readily accessible to them.
• Believes Access can aid in every girl's journey to becoming confident, assertive, and independent
• Featured in LA Times
• Recently started a G.IRL scout troupe for younger members
Interactive: Cottage core Teenage Dream bedroom installation- featuring tie dye station, photo ops, and space to vibe
MADE by DWC
Social enterprise lifting women out of homelessness through job training & economic opportunities.
• Powered by the Downtown Women's Center
• Purchases fund career training and mentorship programs
• Started as a simple cafe in San Pedro
Interactive: Candle pours experience
Hiromi Paper
Elevating our relationship to paper by preserving class Japanese traditions and building a community of printmakers, artists, and everyone who makes & appreciates the art of paper.
• Woman-Owned
• In business for 34 years
• Offers papers not just from Japan, but around the world.
Interactive: Guided origami station
Lenita By Grita
Stop and smell the floras with this business that combines floral art & design with community building and a deep love of LA.
• LGTBQIA+ & Latinx owned
• Named after owner's mother
• Operates out of a modest little flower truck
Interactive: Coloring station featuring their iconic flower truck
Narrated Objects
A unique publishing outfit with a 3-pronged mission: make good, read good, and do good.
• Woman & Filipina Owned
• Partners with an impactful org or non-profit for every project
• Has a coloring book dedicated to the Griffith Park Mountain Lion
Interactive: Interactive board game featuring LA icon P-22
Pippi & Lola
Part plant spa part community enrichment space
• LGBTQIA+ owned, Latinx Owned, Woman Owned
• Name is a combination of homage to the movie Pippi Longstocking and the Barry Manilow song "Lola"
• Stocks goods from primarily queer or POC makers
Interactive: Affirmation Fountain
Sara's Market
A family-owned community market that's been in the business for 60 years
• Woman owned & Latinx owned
• Featured in LA Times, LA Taco, Eastsider and Chef Roy Choi's KCRW show "Broken Bread"
• Features many small, local brands from independent chefs, brewers, and makers
Interactive: T-shirt design station for all ages
Suay Sew Shop
Textile recycler fueled by community
• Specializing in remade clothing produced from previously loved or discarded fabrics
• Have diverted half a million pounds of textile waste from landfills
• The shop also features a community rack outside with 100% free clothing items
Interactive: Free rack station — attendees can pick a secondhand clothing item of their choosing
Tai-Lite Beauty
A brand beyond beauty, transporting wearers & watchers alike to whimsical worlds
• Black & woman Owned
• Featured in high fashion pubs like Vogue and Elle
• Coined the term "fairytale beauty" to describe a unique fantasy-based aesthetic
Interactive: Flower art application station
Teapot LA
Arts and culture nonprofit led by artists to foster the creation of flourishing gardens and spaces of community & zen.
• Woman owned & operated, with Middle Eastern & Latinx leadership
• Building the first Persian-Style public paradise garden in the US
• Featured in the LA Times
Interactive: Free tea sample with plantable cup
MOVEMENT STORIES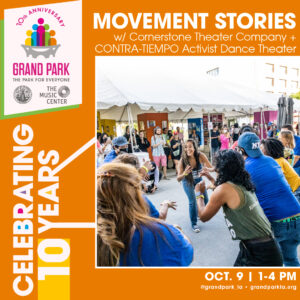 Cornerstone Theater Company and Ana Maria Alvarez of Activist Dance Theater CONTRA-TIEMPO will create a fun and participatory storytelling and movement-based experience culminating in a processional. The journey will include creative stations featuring CONTRA-TIEMPO Activist Dance Theater, drummers, Cornerstone artists and members of our diverse communities among other community partners.
CONTRA-TIEMPO Dance Theater Activation
Ana Maria Alvarez and CONTRA-TIEMPO company members will guide participants in social dance practices rooted in the African and Afro-Latine Diaspora. These ancestral movement practices were designed and passed down to build resilience, affirm joy, instill hope and to strengthen social and political resistance.
This sabor session/radical joy session will be a full bodied get down. Together participants will explore multiple dance forms rooted in joy and resilience, including line dancing, comparsa (an Afro-Cuban carnival dance) and freestyle. Ending with a procession and performance offering.
Cornerstone Theatre Company Activations
We Move Thru It!
Celebrate what we do in our lives each and every day: We Move Thru It! Do so with curiosity, creativity, discovery and joy. How would you move through a river of honey? Enter and let suggestions like these create new ways of getting from here to there. Emerge perhaps more in your body, perhaps with a smile, perhaps having busted a new move. Witness and appreciate one another's journeys, and the many wonderful ways We Move Thru It!
Mapping THIS MOMENT
What's on your Mind? In your Heart? What is Moving You Now? Help create a map of what we care about, of where we've been and who we'd like to be. Write, paint, draw, create a collective imprint of THIS MOMENT that surveys the past, takes the pulse of now, and looks to our future.
Movement Story Booth
We're always telling stories, sometimes with our voice and sometimes with our bodies. What is the story of your body, or the story of the larger bodies that you are one part of? Come to the Movement Story Booth and tell us a short story – a treasure, a secret, a hope, a worry – about movement that matters to you! We want to listen and be moved by you.
FREE BIKE VALET

Ride On! Bike Shop/Co-op | Founded by Adé Neff, Ride On! Bike Shop's mission is to thrive as a resource hub for educating the local community on the environmental, social impact, and benefits of cycling. Located in Leimert Park, the shop provides the space, tools, and information for our community to access the dynamic world of micro-mobility.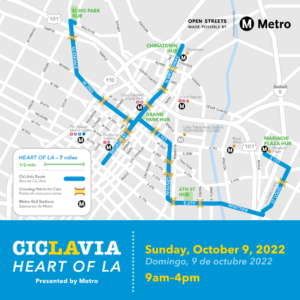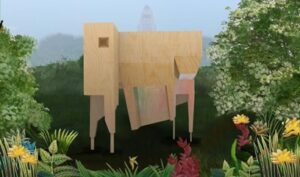 Gloria Molina Grand Park's two-day celebration also will feature an expanded version of an interactive art installation House of Words by Jimenez Lai (which debuted at Gloria Molina Grand Park's 4th of July Block Party), produced in partnership with NOW ART LA. The installation includes a live acoustic composition and special performance by Morgan Sorne and a video montage by Nany Cárdenas honoring Gloria Molina Grand Park's 10th anniversary.
PARTNERS
HOUSE OF WORDS JIMENEZ LAI | Los Angeles, Artwork
MORGAN SORNE | Los Angeles, Acoustic Design
NOW Art LA | Curation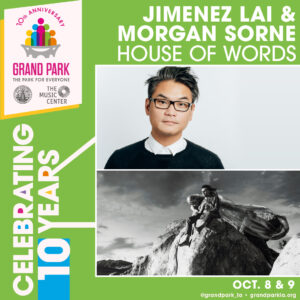 Jimenez Lai | House of Words is a 13-foot-tall folly at the GrandPark in Los Angeles. Like a friendly colossus that hovers over the public, this interactive structure listens to its visitors and re-states what it hears in its own gentle but deep voice. While standing underneath the belly of this behemoth, a person can whisper a secret into the receptors. However, like a bad secret-keeper, this creature will carelessly echo everything back into the ether, albeit very quietly and in a heavily distorted and unrecognizable utterance. In the final scene of the movie In the Mood for Love (2000), the protagonist whispered a secret into a hole at a temple and covered it with mud. Symbolically, this gesture is an act of self-healing as he confided with the building by quietly narrating his sorrows in private. Unlike the covert nature of this mud hole, The House of Words scrambles the words spoken to it like a paper shredder. The new and uplifting sounds are like bird songs, free of its former meanings and no longer comprehensible to humans. The act of divulging a burdensome thought is a therapeutic act -like a speech monster that eats and digests away a person's words, this project is a sounding board for the heavy-minded Angelenos to tell their stories to.
Morgan Sorne | I would like to believe that we are not alone. That there isa world that lies between the walls of this dimension and the next. Where one supposes our ancestors float, watching, sending us clues, telling us things we can't quite comprehend through patterns and symbols. I feel that place in my music. It's soul matter you cannot touch, that which comes out of me in song, that which tells a story of something more.
FOOD TRUCKS
Info coming soon.
TRANSPORTATION
Public parking will be available at two locations for $10 per vehicle:
The Music Center                      Walt Disney Concert Hall
135 N. Grand Ave.                      111 S. Grand Ave.
Los Angeles, CA 90012             Los Angeles, CA 90012
​Additional parking lots near Gloria Molina Grand Park will be available.
The public is highly encouraged to take public transportation. Gloria Molina Grand Park is located conveniently at the Civic Center/Gloria Molina Grand Park station along the Metro B Line (Red) and Metro D Line (Purple).

Share Your Gloria Molina Grand Park Memories!
Submit your photos and videos of Gloria Molina Grand Park memories, and we'll display them on our socials and throughout our upcoming summer programs!