Family! Begin the weekend with FREE relaxing, family-friendly activities focused on deepening relationships with self, community and the park at Gloria Molina Gloria Molina Grand Park's Easy Mornings.
This spring program includes an exciting exploration of L.A.'s creative landscape with performances, activities and workshops highlighting the art of dance and music, nature, health and wellness, digital arts and more.
Get inspired by Los Angeles-based small businesses and nonprofits with activities for everyone. Gloria Molina Gloria Molina Grand Park's Easy Mornings is co-curated in partnership with Streetlet, an opportunity-matching and growth engine for small business owners and makers. 
Plus, get up to date and stay up to date with the Los Angeles County Department of Public Health COVID-19 Mobile Vaccination Clinic. COVID-19 (Pfizer, Moderna Fall Bivalent – all ages), MPOX, & Flu Vaccines available. Date: April 15th
Sign up below:
English
Español
EXPERIENTIAL ACTIVITY / BOOTH SCHEDULE:*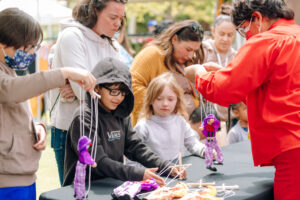 Band of the Wild – From wild play to bedtime! Band of the Wild costumes are designed to bring a spark to the expanding imagination of a child- a bit of wild freedom and story building for their day, then made to convert to pajamas when it's time for bed. 🖌 Get the opportunity to see a live puppet show, and kids will get opportunity to make their own paper shadow puppets. Date: April 22
Beverly O' Donohue – A practitioner of Hatha Raja, Reiki and meditation. Her core belief is that Yoga is an alternative medicine and is for everybody. 🧘 Start your morning with an introductory class in Yoga , Pranayama & Meditation. Date: April 15
Bob Baker Marionette Theater – A nationally recognized Marionette Theater with events and happenings at their Highland Park Theater and all over the region, BBMT has been pulling the strings of family fun since 1963! 🎪 Catch their performance on stage and come learn to play with marionettes at their booth! Date: April 22
Carla's Pop-up Pantry – Stocks elevated pantry staples from local makers and creates unique gift boxes. Visit their booth featuring two of their favorite partners!
Serene V– In collaboration with Carla's Pop-up Pantry, local fiber artist Valerie Medina of Serene V will lead a still life drawing activity for kids. Date: April 15
Muddy Heaven – Builds radical relationships with the land and each other through farming and play. In collaboration with Carla's Pop-up Pantry, local urban farm Muddy Heaven will be leading a seed bomb activity where participants will be making 🌱 seed bombs out of clay, soil and wildflowers so that Angelenos can bring plant life to all corners of their community.  Date: April 22
Chinese American Museum – Dedicated to researching, preserving, and sharing the experiences and contributions of Chinese Americans in the United States through quality exhibitions, programs, events, publications, and workshops. CAM will provide lessons on making different styles of paper lanterns. Dates: April 15 & April 22
City of LA Department of Cultural Affairs featuring NEA Big Read in Los Angeles– The Department of Cultural Affairs (DCA) promotes arts and culture to ignite a powerful dialogue, engage Los Angeles's residents and visitors, and ensure Los Angeles's varied cultures are recognized, acknowledged and experienced. 📚Pick up a free book (while supplies last) and enjoy an art workshop. Presented as part of this year's NEA Big Read Program in Los Angeles, exploring cultural identity, popular culture, and storytelling. Dates: April 15 & April 22
Con Todo Press – A 100% Latina owned independent publishing company creating bilingual Spanish/English Children's Books and Celebrating Latino culture and leaders.  At the Con Todo Press booth kids can enjoy book readings and free arts & crafts activities. Dates: April 15 & April 22
Drag Queen Story Time – Drag Story Hour is just what it sounds like! Storytellers using the art of drag to read books to kids in libraries, schools, and bookstores, DSH captures the imagination and play of the gender fluidity of childhood and gives kids glamorous, positive, and unabashedly queer role models. In spaces like this, kids are able to see people who defy rigid gender restrictions and imagine a world where everyone can be their authentic selves! Drag Queen Pickle will offer storytelling for kids and families. Dates:  April 22
Downtown Works DTWX – Downtown Works promotes public engagement and understanding of Downtown LA's most important opportunities and elevates solutions to DTLA's challenges. Downtown Works delivers on this mission through thought leadership, convenings with the public, research and by highlighting the area's unique civic character and its role in building a more equitable future for our region. Join in for a fun slime making station. Date: April 22
Eka Ekong – Since 2009, Eka has studied and practiced various yoga styles including Vinyasa, Power, Anusara, Bhakti and Para Yoga. "Regardless of how the physical body appears, my yoga practice reminds me of that divine light that shines in each of us that unites and connects everything. We are all made of the same miraculous energy, and it is our birthright to be happy and live in abundance."  Reflecting these feelings, her classes are a blend of conscious sequencing, philosophy, laughter, and intentional focus. 🧘Offering family yoga for all. Date: April 22
Freedom Drum Circles – Founder Christopher Ramirez is inspired by the human connection created through interactive and inclusive rhythm experiences. He is well recognized as an established Motivational Rhythm Facilitator, Drum Instructor and Performer with over 35 years of experience, Christopher created a platform that sparks and empowers the rhythmical imagination for people of all ages, backgrounds and abilities. 🥁 Feel the beats through a live percussion and drumming circle for kids and families. Date: April 22
Friends We Love – Friends We Love is a Latine-owned, award-winning film production company with a mission to create, educate and celebrate through socially conscious content amplifying their creative community. Founded by MichaelVargas.Art and Moni Vargas. Activate your creativity with drawing and coloring activities featuring the art of co-founder and Emmy-nominated multidisciplinary artist, Michael Vargas.  His new work includes public outdoor sculptures, 3D printed products, video games for kids, digital art, documentary films on legendary Latino artists, and a series of children's books. Moni Vargas will share her DJ music throughout the event. Moni has been a professional DJ for over two decades, and has performed throughout four continents, released mixed CDs, served as an on-stage DJ and musical director for theater musicals and taught DJ workshops via the LA County Library system. You can find Moni's mixes of global soul and future classics on Friends We Love Radio.  Dates: April 15 & April 22
Ketchum Downtown YMCA– Committed to strengthening communities through youth development, healthy living, and social responsibility. 🐘 Join in for an animal wood cookie making activity. Date: April 15
LA County Library– LA County Library is one of the largest and most innovative library systems in the US.  LA County Library is dedicated to reducing barriers and increasing access to and equity of public services for all. Visit the MākMō (makermobile) 🧪️ van promoting science, technology, engineering arts and math (STEAM) and Big Blue Blocks. Dates: April 15 & April 22
LA Guild of Puppetry The Los Angeles Guild of Puppetry was started in 1956 and is now one of the largest puppet guilds in the United States. Their mission is to share, promote and advance the art of puppetry in the Greater Los Angeles area through performance and education.  🎭 Join them in celebrating the ancient and wonderful art of puppetry with their ever-popular Paper Bag Puppet Making Activity! Create your very own paper bag puppets to puppeteer and enjoy! Date: April 15
Laugh and Be Silly– Created to inspire people to be creative and to "Laugh" and "Be Silly!" by providing live bubble shows, bubble play, and silly videos on YouTube! Love Bubbles? Artist Jordan Urquhart will be bringing a roaming, interactive bubble show and bubble play station for all to enjoy.  Dates: April 15 & April 22
Little Kitchen Academy– To families seeking educationally enriching activities for their children ages 3-18, Little Kitchen Academy is the first-of-its-kind Montessori-inspired cooking academy providing a safe & empowering environment to learn practical life skills, confidence, independence, and healthy eating habits to last a lifetime. Offering hands-on opportunities for students to use kitchen tools as well as trying on some chef coats for photos. Date: April 15
Los Angeles County Department of Parks and Recreation – Natural Area– Happy to share its Natural Areas 🍃 with you. Staff will be representing Eaton Canyon Nature Center, Whittier Narrows Nature Center and Dean Dana Friendship Nature Center. Learn more about their upcoming events while watching Natural displays, and interacting with kid activities. Date: April 15
Los Angeles County Museum of Art – LACMA is the largest art museum in the western United States, with a collection of more than 149,000 objects that illuminate 6,000 years of artistic expression across the globe. Committed to showcasing a multitude of art histories, LACMA exhibits and interprets works of art from new and unexpected points of view that are informed by the region's rich cultural heritage and diverse population. Get inspired by LACMA's collection and create museum inspired arts and crafts. Dates: April 15 & April 22
Narrated Objects – A women-led creative collective in Los Angeles, providing outlets for individuals to share their diverse experiences and talents, enrich people's lives through unique multimedia stories and events, and to partner with organizations to do good. Visit their two board games, L.A. Park Adventures and Adventures of P-22, serving as inspiration for visitors to create their own board games. Date: April 15
No Easy Props – No Easy Props, Inc is a 501c3 arts organization committed to preserving Hip-Hop culture by providing quality Hip-Hop cultural dance, art, and music education, enrichment and entertainment for proactive BIPOC youth development through engaging programs, workshops, performances, and interactive cultural events for community benefit throughout the communities of Los Angeles and Denver. 🎵 Watch a live hip-hop performance and get the opportunity to learn through this interactive workshop for the whole family! Date: April 15
PeaTree Clothing, LLC – Baby PeaTree Clothing is a Latina-owned and operated small business in Southern California with three basic beliefs: 1) Sustainability because climate change is real. 2) Gay rights because families are formed in all different ways. 3) Immigration because no human is illegal. 🌈 Visit their booth for an interactive rainbow-inspired arts and crafts station.  Dates: April 15 & April 22
Slayfire Cosmetics – Slayfire Cosmetics creates stunning quality products that not only look and feel amazing but are also safe and healthy for your skin. Slayfire is uses biodegradable, non-toxic glitter. They create glitter that doesn't feel like glitter- it's vegan, budge-proof, and handcrafted in Los Angeles. 🌟Their glitter station will include stencils and biodegradable non-toxic glitter tattoos safe for all ages! Dates: April 15 & April 22
STORY SPARK – A lifestyle brand that celebrates the connection between technology and people. Their tech-inspired graphic designs will be made into coloring pages to be worked on at their coloring station.  Date: April 15
Sunbeams LA – Sunbeams creates curriculum and content around mental health awareness, mindfulness and self-care while promoting kindness and creativity. Visit their 🚌 bus classroom for vision board making, self-portraits, and journaling.  Dates: April 15 & April 22
The Tree Yoga Coop – The Tree Yoga Cooperative is a Black and Latinx owned yoga studio in South Central Los Angeles, providing accessible, inclusive, culturally relevant, trauma informed yoga programming for communities across LA county and beyond. Come enjoy some fun family yoga games and exercises. Warm up with some mindful breathing and incorporate play throughout our stretches, postures and giggles! All ages are welcomed for playful stretching. Also offering wellness inspired art activities. Dates: April 15 & April 22
Viver Brasil Dance Company – VIVER BRASIL, a Los Angeles based company founded in 1997 under the artistic direction of Linda Yudin and Luiz Badaró, captivates audiences with its irrepressible blend of bold Afro-Brazilian dance theater and exuberant physicality, power, and passion drawn from orixa movement and rhythms, samba, forró, dança afro and bloco afro styles. Watch an active performance and an Afro-Brazilian dance class. Date: April 22
Wren Amber Clothing – Sustainable, vintage inspired slow fashion by a Mother and Daughter duo, made with love to last and be passed down. Visit Wren Ambers spring inspired arts and crafts activity station and play space to unlock your child's creativity.  Dates: April 15 & April 22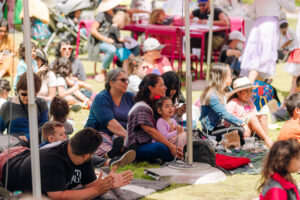 STAGE SCHEDULE:* 
TIME

 

APRIL 15, 2023

 

APRIL 22, 2023

 

10:00 a.m. – 10: 30 a.m.

 

DJ Moni Vargas of Friends We Love

 

DJ Moni Vargas of Friends We Love

 

10:35 a.m. – 10:50 a.m.

 

Yoga with The Tree Yoga Coop

 

Yoga with The Tree Yoga Coop

 

11:00 a.m. – 11:20 a.m.

 

Reading with Con Todo Press

 

(English and Spanish)

 

Reading with Pickle,

 

Drag Queen Story Time

 

11:30 a.m. – Noon

 

LA Guild of Puppetry

 

Puppetry with Bob Baker

 

Marionette Theater

 

12:10 p.m. – 12:30 p.m.

 

Open Play with DJ Moni Vargas of Friends We Love

 

Family Drum Circle with

 

Freedom Drum Circle

 

12:35 p.m. – 12:50 p.m.

 

Yoga with Beverly O'Donohue

 

Yoga with Eka Ekong

 

1:00 p.m. – 1:30 p.m.

 

Hip Hop Dance with No Easy Props

 

Afro-Brazilian Dance with

 

Viver Brasil Dance Company

 

1:30 p.m. – 2:00 p.m.

 

DJ Moni Vargas of Friends We Love

 

DJ Moni Vargas of Friends We Love

 
*Artists, performers and vendors are subject to change.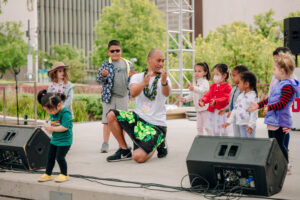 ---
SPECIAL THANKS TO